Computer Network Cabling – Structured Cabling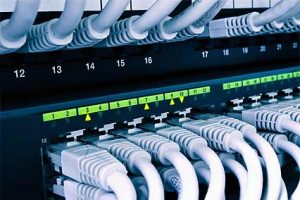 Our technicians are capable of installing the structured cabling backbone for your computer networking needs. Whether you are looking for Ethernet cabling, Cat 5e or Cat 6, Fiber Optic Cabling, Coaxial cabling. Plenum cables or riser cables. Whatever your data cabling needs are, we can help.
Telephone Cabling
Whether looking to just add one or two lines to an existing system, or looking to install a new telephone system from the ground up, our technicians are fully capable of delivering service for both VoIP telephones and traditional plain old telephone service lines.
Low-Voltage Systems Cabling
Whether for Alarm Panels, Access Control Devices, Surveillance Cameras, if you need low voltage power or data cabling run our skilled licensed low-voltage electricians can see to it that your needs are met.
Quality of Installation
Our technicians are trained, licensed, and certified in all aspects of voice/data/video/security cabling. We are familiar with the latest industry standards as published by EIA/TIA and National Electrical Code. By using Advanced Communications as your cabling contractor you can rest assured that the best products, design and installation practices have been used so your system will be able to keep up with the high demands changing technology for years to come.
Versatility
Advanced Communications Services, Inc. has the ability to install a cabling system in virtually any environment. Whether the project requires Voice, Data, Video, Audio, Alarm or Fiber, We have the solution to meet your needs. We have the experience and means to get the job done right the first time and that State, County and City codes are met.
Advanced Communications Services, Inc. has a crew of licensed certified structured cabling installers ready for any size project. We have performed on a variety of projects over the years including big box stores, fast food, restaurants, schools, medical, government, call centers, we have worked with clients both large and small, all with the same high quality service. Our contractors are fully licensed to serve clients in Vancouver, Portland, Eugene, Salem, and all across our fine state of Oregon.
"We chose Advanced Communication Services, Inc. to do all of our wiring at our new facility.  They ran all new network, and phone lines and so impressed us with their professionalism, that when we were ready to upgrade our phone systems, they were our first choice.  Again, they surpassed all of our expectations with their excellent service and support, before, during, and after the install. They will continue to get our highest recommendations because of their excellent service, support, and pricing."
– Chuck Rinehart, Purchasing Manager, Stackhouse Athletic