Advanced Communications Services Handles All Types of Fiber Optic Cable Installation and Services 
Fiber optic cable utilizes light instead of electric current to transfer data. Optical properties of light translate into both increased speed and bandwidth. Fiber Optic installations depend on the type of application desired. These range from long range telecommunications applications to high speed data transfer within a single area. Our Fiber optic cabling installations are tested and certified by skilled, knowledgeable, friendly technicians. Fiber Optic cable termination services are also offered. The entire fiber optic installation process is monitored to the most stringent quality control standards.
Fiber Optic Installation, Testing, Termination, & Certification
We handle all types of fiber optic cable installation, including: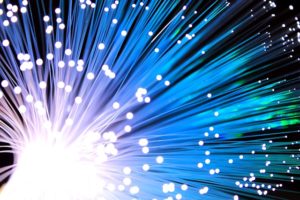 Fiber Optics Installation Between Buildings ( Conduit Installations, Aerial Installations)
Termination: Optic Fiber Connectors of all Types
Fiber Optic Backbones
Fiber Optic Demarcation (Dmarc Extensions)
Fiber Optic Cable Testing & Certification
Fiber Optic Cable Advantages
Fiber optic cable has numerous advantages compared to conventional cabling. It is more secure, since it uses light and can't be tapped into the way some electric current applications can be. It is safer, because light, instead of electricity, is what is transmitted. Normal cabling is often subject to crosstalk, interference between wires. Fiber optic cable is not subject to crosstalk, so it can be deployed in interference areas. With its superior bandwidth and speed, fiber optic cable is often the best choice for your business.
We're Advanced Communications Services of Orlando, Florida
Advanced Communications Services will consult with you to help determine the needs and requirements of your particular business situation. Take advantage now of our years of experience and expertise installing all types of cabling, especially fiber optic! For your free Orlando, Florida, consultation and recommendations, contact us today at Advanced Communications Services!
Call Our Local Orlando Office @ (407) 337-7990
Orlando Fiber Optic Cabling