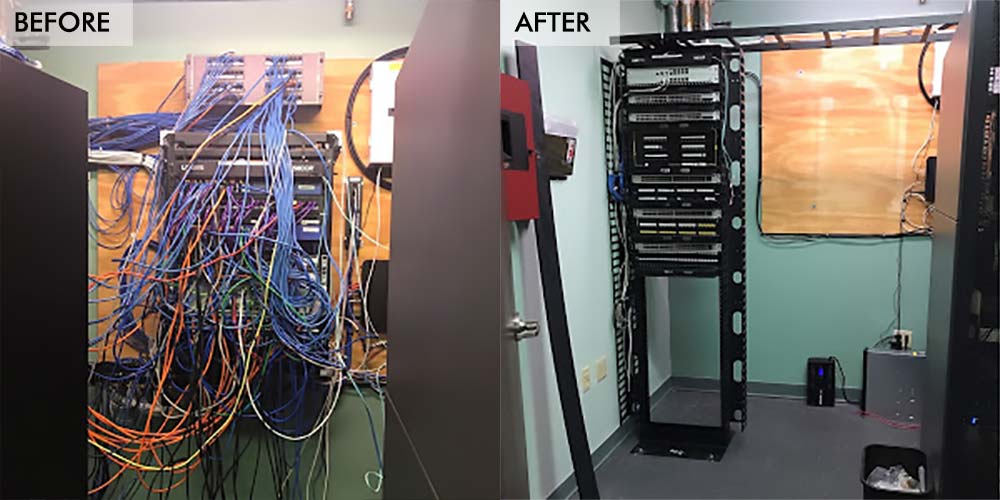 When you look at these two pictures, it may seem obvious to you that the "after" picture is preferable. It just looks neater and more organized, like better server room cable management. That's true, but there's a lot more to it than that. Here's the customer review:
"Excellent service and very professional. We have used Advanced Communication Services two times so far and they did a fantastic job both times. Our server room was a mess and our old rack looked like a spider's nest. We needed a network rack, cable runs, patch panel punch downs, they did it all. ACS quoted us a very reasonable price for the work and had it done in a day. Scott, the general manager, is a pleasure to work with too. I highly recommend Advanced Communication Services."
There are a number of factors in play for good server room cable management. Let's explore the server room jungle.
Strategic and Environmental Factors
A cable routing strategy is essential. Twisting and turning disarray actually subjects the cables to more physical stress and strain. That can lead to damage, poor performance, and more frequent repairs in this vital area. Cables should be tested before they are installed. If the airflow in your server room is restricted, temperature can rise. Excessive heat is one enemy of optimum server performance. Many server rooms now have temperature alarms that go off if the temperature or humidity rises too much. An Uninterruptible Power Source (UPS) to back up and protect your server room operation is another necessity.
Organization and Security
Color coding the cables to identify the cable function, type, and final destination is a great idea. Labels can also be very useful. Hangers and trays can help turn the disarray into an organized and neater area that is easier and quicker to maintain and service. Quality racks aid when you need to add or remove equipment. For effective server room cable management, organization is vital. Finally, your server room should be a top security priority, with limited access, and security cameras. It is the heart of your computer operations.
Documentation
It pays to document your vital data infrastructure framework. Documentation aids in both proper maintenance and new equipment installation. Documentation should include service dates, color code info, types and purposes of cables, and patching information. For efficiency, safety, and overall better performance in your server area, contact Advanced Communications Services of Orlando, Florida. We are experts in all aspects of today's data cabling and server room cable management.
Call Advanced Communications Services @ (407)337-7990